3D printer from the famous Creality brand, the Ender 6 is the next step in the Ender range of printers. With a robust and closed structure that allows the printing of technical materials in a low cost 3D printer format.
This Creality 3D Printer is a bid to unite the Ender and CR-10 ganms, as the Ender 6 has a little bit of each range.
Highlights of the Ender 6
Large 250 x 250 x 400 mm build volume
Redesigned structure
Acrylic glass covers on the sides.
Stable interior temperatures
Improved print quality
Prints technical materials with less effort
Quiet, with TMC2208 controllers guaranteed to always be below 50 dB
High accuracy down to +-0.01mm
Filament Sensor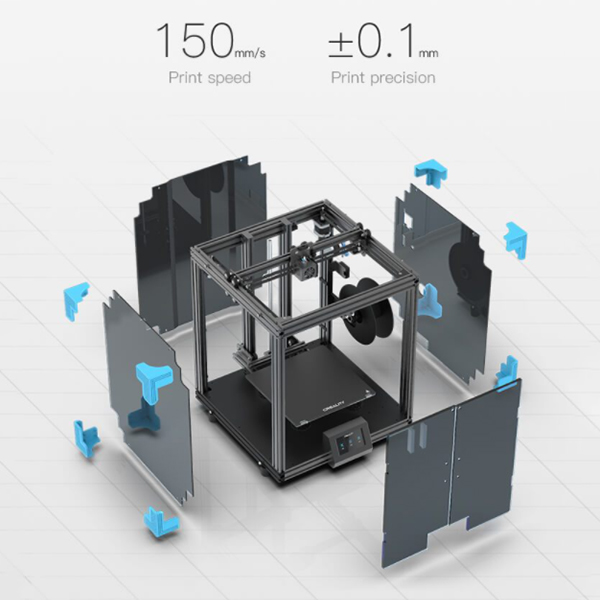 Speed and Accuracy
Improves the speeds of the Ender series, achieving, according to the manufacturer, up to a maximum of 150 mm/s and an accuracy of +- 0.01 mm. Thanks to its Core XY structure and high quality components.
Carborundum Glass Base
This base improves thermal conductivity as well as heat resistance. Thanks to the incorporation of this material, the base heats up faster and more evenly. In addition, it achieves excellent adhesion, so you don't have to worry about the first layer.
Filament Sensor
A great addition to the Ender 6 is the filament sensor, which will warn you if the material breaks, or if you run out of material, pausing the print, until the machine is loaded with more filament.
This improvement prevents loss of prints due to running out of material.
Assembly and Maintenance
Creality Ender-6 is a ready-to-use machine with all cables carefully arranged in order. No problems with assembly, no problems with maintenance.
Dimensions
The robust, cube-shaped printer has external dimensions of 495 x 495 x 650 mm and print dimensions of 250 x 250 x 400 mm.
The Ender 6 offers more volume than its predecessors.
Levelling
The Ender 6 features manual levelling, with large wheels on the hot bed for easy levelling.
Levelling Enhancements
The Ender 6 can be upgraded with a BLTouch, an automatic bed levelling sensor. This way you leave the bed level, the BLTouch meshes the bed, and you don't have to re-calibrate the base.
New Touch Screen
The Ender 6 features a new, easy-to-use and intuitive HD touch screen. Here you can view print progress, functions, change parameters and much more.
Materials
This model of Open Source 3D printer, allows you to print in an affordable way numerous types of filament, such as PLA filament, PETG filament, or flexible filament, as well as other technical materials, which you can print more easily thanks to its closed structure, we are talking about materials such as:
Nylon filament
ABS filament
Carbon Fiber Filament
among others…
Technical Characteristics
Type of extrusion: Bowden system
Printing volume: 250 x 250 x 400 mm
Maximum nozzle temperature: 260 ºC
Maximum bed temperature: 110 ºC
Maximum printing speed: 100 mm/s depending on the material.
Printing accuracy (layer thickness): 0.1mm
Filament Sensor: Yes
Print recovery: Yes
Supports third party material (filament): Yes
Filament diameter: 1.75 mm
Nozzle diameter: 0.4 mm
Supported filaments: PLA, ABS, PETG, Flexibles…
Compatible file format: Gcode
Weight: 22 Kg
Other Mechanical Characteristics
Extruders: 1
Laminating software: Cura, Repetier, Simplify 3D, Slic3er, etc…
Voltage: 100 V – 230 V (50/60 Hz)
Power: max. power consumption 350W
Connectivity: USB cable, micro SD
Weight: 22Kg