The Czech company Prusa Research is constantly innovating in 3D printing. So far, what we know about Prusa is the Prusa MK3S Original 3D printer, which because of its performance and results is loved by those who use it. We also know its range of Prusament filaments, and also the PrusaSlicer laminator, which has already led many users to switch to this program. But now something really important is coming…
The Original Prusa MINI 3D Printer was presented a few days ago by Josef Průša, it is a version of the famous Prusa i3 MK3S but of reduced size, 180 x 180 x 180 mm.
The Prusa Mini will be a much more affordable 3D printer than the original. It is ideal as a first 3D printer for those starting out in the maker universe, or an excellent choice as a second printer. But something that has attracted a lot of attention is the ability that the Mini will have to create a printer farm.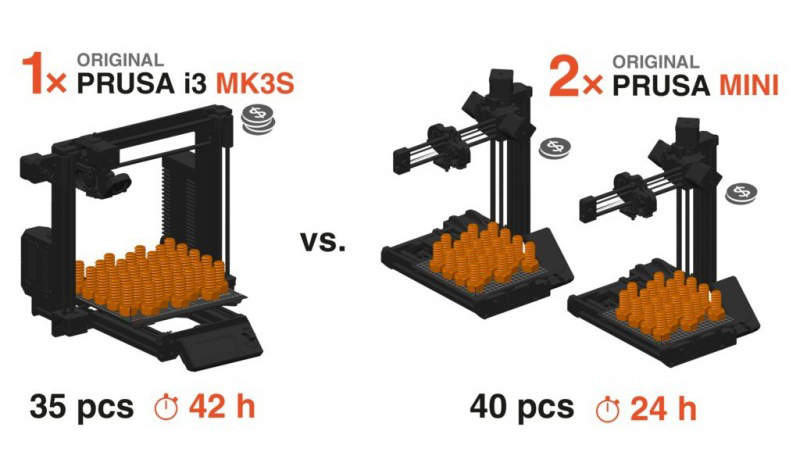 The release of this 3D printer will compete directly with the famous Creality machines, such as the Ender 3 or the Ender 3 Pro. Of course, you have to weigh the pros and cons, so let's break down the features of this new 3D Printer:
Bowden System
The Prusa Mini will not have the direct extrusion system of the original model, but brings a bowden system with 3:1 reduction that, despite what we may think when we see the image, is neither unstable, nor creates noise, nor wobbles in the printer.
More Affordable
Unlike the Original Prusa i3 Mk3S, the Mini will be a much cheaper option, which will make this 3D printer affordable for those who want to start in the maker world, who do not have much knowledge of the subject, and also do not want to spend too much on a 3D printer.
Assembling the Prusa Mini
It will consist mainly of 3 pieces, just connect them, autocalibrate, and we will be ready to start printing. This aspect will also reduce complications for those who are new to 3D printing. Anything that makes it easier to use the machine can be considered a plus, since assembly is one of the most important steps, and if it is not well done, it will cause us problems later.
Volume
We have already mentioned it, but we want to emphasize that, despite being a mini version, the volume is 18 x 18 x 18 cm, which is not bad for a printer with as many benefits as a Prusa.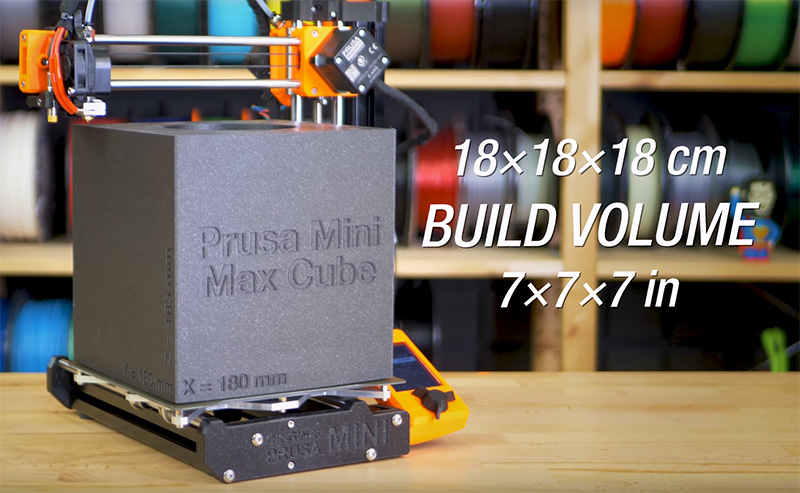 Color display
This is one of the most striking points of the Mini, this model has a color LCD screen of 2.8 inches, where you can preview the 3D printing before printing.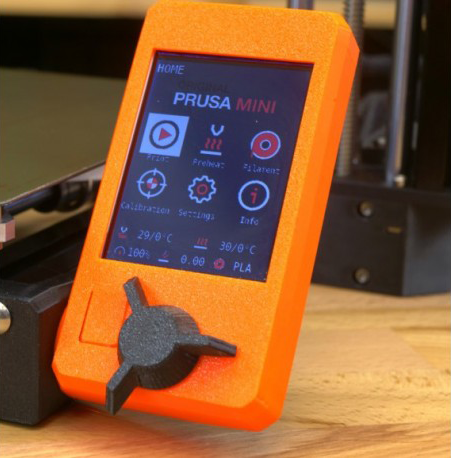 Connectivity
We pass from the SD Card (note it is SD, not microSD) to the USB port, we can connect a USB, a Pendrive, and it also has an Ethernet port RJ45, so we can connect in LAN and even create a farm 3D Mini printers.
By the way, in the future there will be an update to install an ESP Wi-fi module.
Extrusion Engine
To reduce the weight, the motor has been moved to the Z-axis, from there it is pushed through the Teflon tube to the hotend.
Heated Bed
The base included with the Prusa Mini, will remain magnetic and flexible, so there will be no problem when removing our prints and placing the bed hot. Textured bed as the Prusa i3 MK3S although it can be purchased separately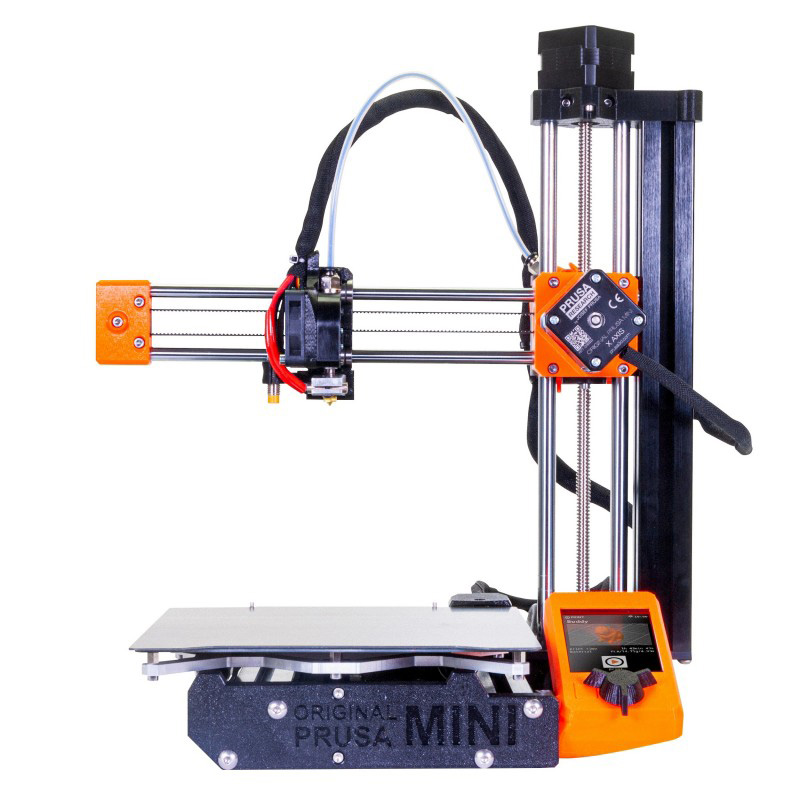 Other Features
Other important aspects within the properties of the printer, and in comparison with the original model, are:
You will be able to print, PLA, PTG, ABS, ASA, Flexible filaments, etc. But you won't be able to print Nylon and PCs.
Printing speed of 200+ mm/s.
Nozzle 0.4, minimum layer heights of 0.05mm and maximum layer heights of about 0.35mm.
Max temperature 280ºC.
Max Bed temperature 100ºC.