Humans are not the only ones who can benefit from 3D printing, our pets can also enjoy the benefits of having a 3D printer at home. That's why in this article, we're going to talk about 3D printing for your pets.
Remember not to use PLA filament for all those prints that will be in direct contact with food. Instead, you can use PETG filament, and sterilize the print, since, as we commented in previous posts, the main problem with food and 3D prints is the appearance of microbacteria between layers.
Let's begin!
1. Hair Dog Vaccum
Adapter to suck the hair of the dogs while they are brushed.
Designed for any vacuum cleaner.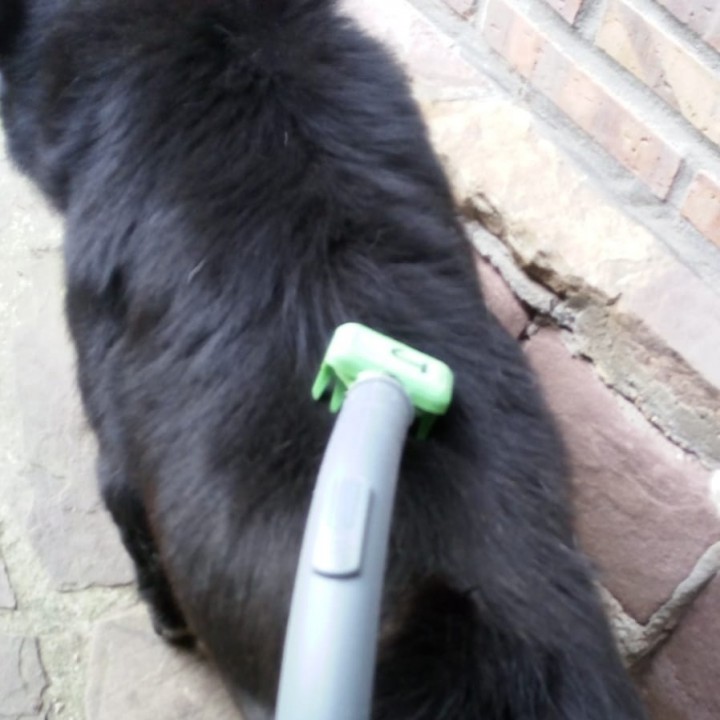 You can get the file through MyMiniFactory, thanks to the user @juan13
2. Ball Scoop and Launcher
This 3D impression is great to play with your dog in the park, without having to dirty your hands of drool (something that has happened to all of us -_-), this gadget will help you to throw the ball with more energy, and pick it up, the design is great, it has a handle that is screwed to the main piece, being perfectly fitted.
With this you will no longer have an excuse to tire your dog 🙂 before going home.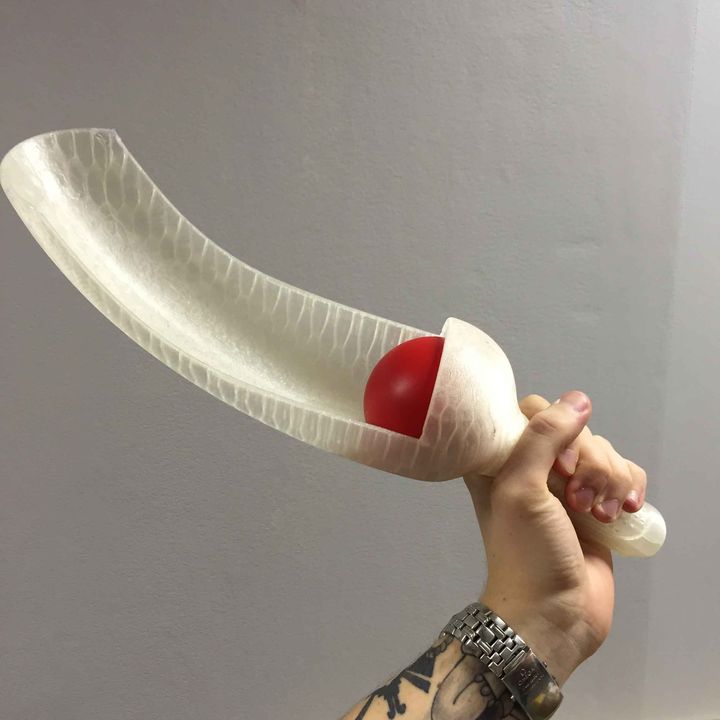 You can get it at MyMiniFactory gracais a @lloydroberts93
3. Hyperactive dog/cat toy
If your pet has problems with nervousness or hyperactivity, then you know what I'm talking about… The best way to solve this is simple: tire him out. This is the reason for this design, it is a ball in which you can insert a prize cookie for your pet. Your mascot will play with the ball until it is surrendered (and if a piece of biscuit comes out, he will get it as a prize). The design comes in 2 STL files, which come together once printed.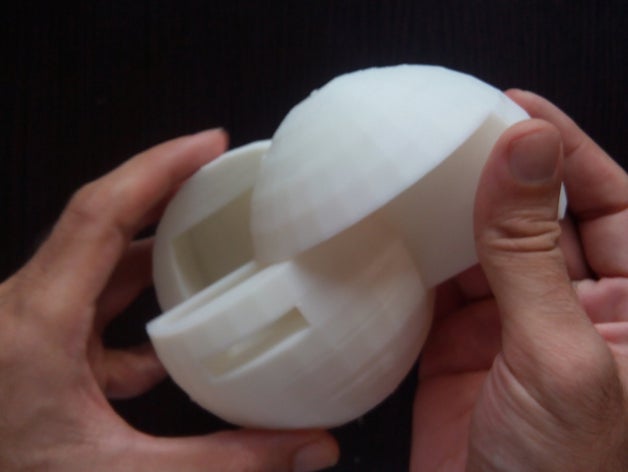 This is a great idea, which you can download from Thingiverse thanks to HW-ARTS
4. Cat Litter Scoop
We all have one of these at home (if we have a kitten), unlike other collectors, this filters the litter to keep only its waste. Print it in the color you like, and avoid the odors of the depositions of your pets, leaving their sand always clean!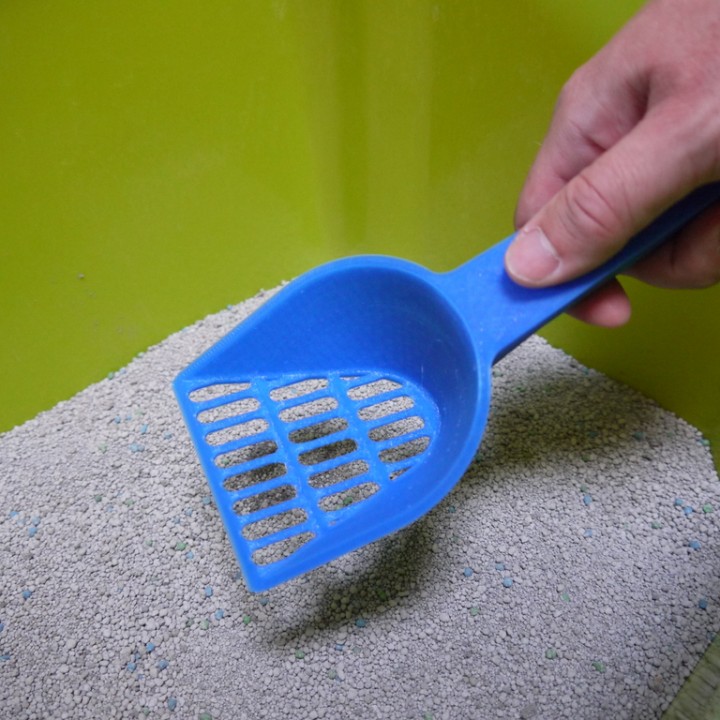 You can download it at MyMiniFactory thanks to @CreativeTools
5. Dog Poop Bag Dispenser
A design that allows you to insert the poop bags, and remove them easily. It also has a hook to which you can put a carabiner, or a bridle, or any other form of hook, so you can hang the dispenser from the strap, or so that you are no longer the one carrying the bags, but your dog, hanging the dispenser from the collar, for example.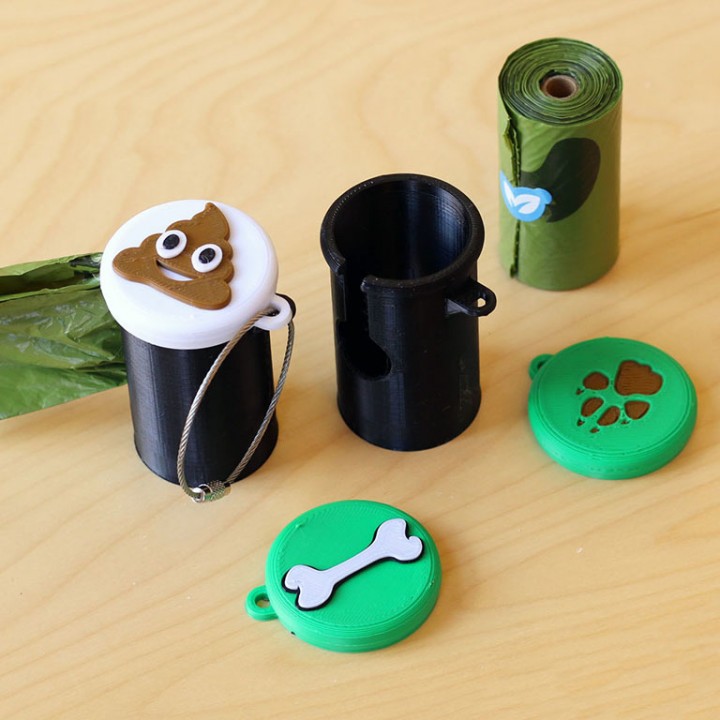 A great 3d printing, which you can download in MyMiniFactory thanks to the guys at @MosaicManofacturing
6. Food Dispenser
Unlike the dispenser we talked about earlier, this one is designed for food to come out, with a little effort on the part of your kitten/puppy. It has two designs, which vary in the position of the holes to dispense food or sweets.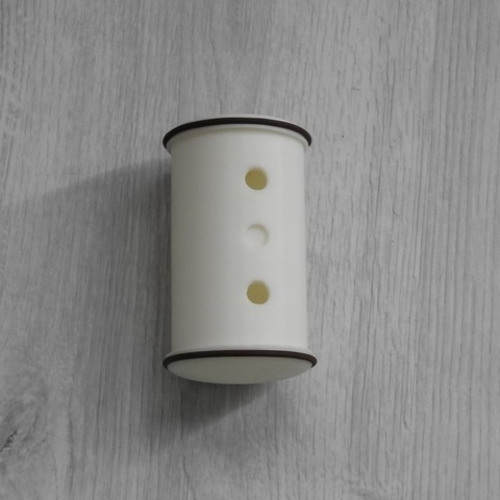 You can download it at PinShape thanks to Hanjo 3D
7. Erratic Cat Ball
The erratic ball never goes straight… Its direction is unpredictable! This will cause your kitten to go crazy (in a good way) chasing it. It's a lot of fun, but it also helps hyperactive animals calm down.
You can download it for free at MyminiFactory thanks to @EnterpriseXDDesign
8. Automatic cat feeder
The dispenser will save you worries, eh, you can go on a trip without worrying so much about who will feed your kitten.
The dispenser has a weight sensor under the food bowl, the arduino will read the weight, and if it is under the preset weight, it will fill it in. This print is intended for dry feed. If you are a bit of a handyman, this print is for you! (well, for your cat…).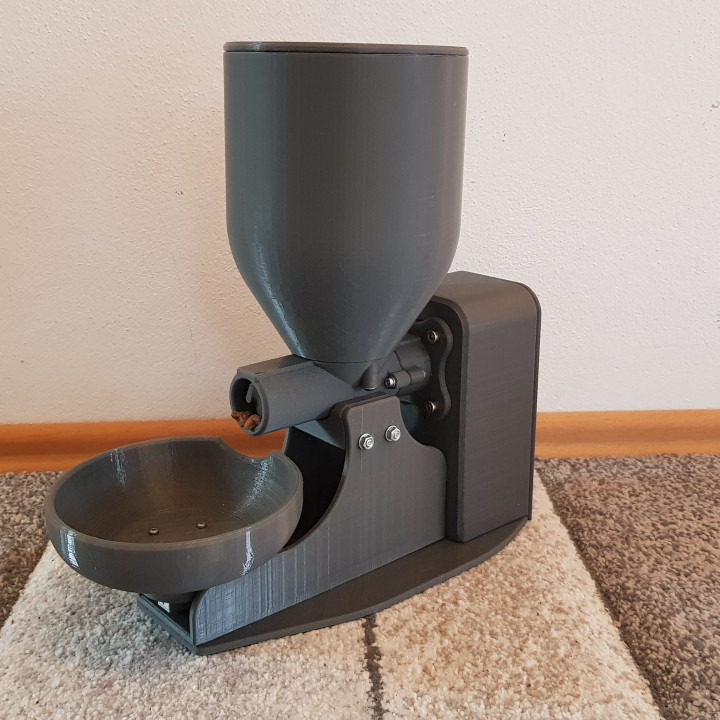 In addition, the user has posted the wiring diagram, the arduino code, and the stl. You can find @thomaskrichbaumer's design in MyMiniFactory.
9. Pet Wheelchair
A 3D printer allows you to do this kind of thing at home, it is simply great, that in the face of such a misfortune, a solution can be given quickly and functionally. This wheelchair is composed of several parts, which function as connectors of the tubes that are, in themselves, the structure of the "chair".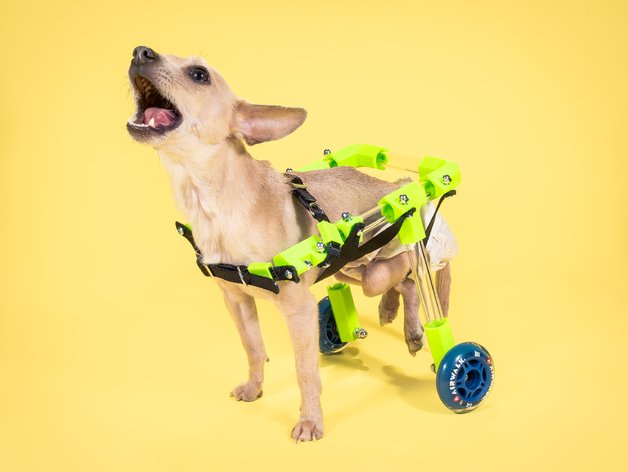 You can download this project in Thingiverse thanks to the user Rickee.
10. Dog Bowl Water Bottle Carrier
Going to the park and having to carry the drinking fountain… well, 3D printing is in our lives to provide solutions, and this is one that your pet will thank a lot after a while playing. This drinker fits perfectly with a bottle of water, so … you already carry the 2 things in one!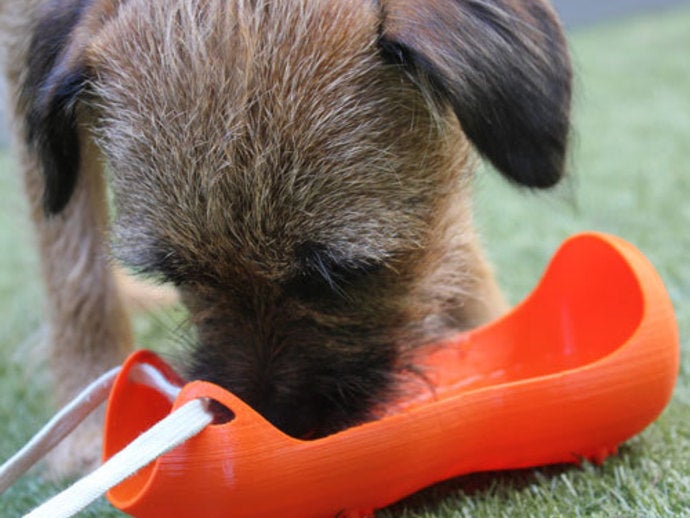 You can get it at Thingiverse thanks to dadhoc.
What do you think? Are you going to implement them? Many of them will bring great joy to your pet. If you see more great impressions for your pets, leave them in the comments and we'll update the post!