Creality Ender 3 v2 3D printer is the new and updated version of the famous Ender 3. It has a print volume of 220 x 220 x 250 mm with a simple and stable structure.
Creality Ender 3 v2
Among other things, this Open Source 3D printer model incorporates belt tensioners, a filament feeder in the extruder and many other improvements requested by the community.
It allows to affordably print numerous types of filament: PLA, ABS, PETG, flexible filament, among others in a print volume above the standard.
It has an innovative design, and above all it is very easy to manipulate to make any part change or improvement, or simply to work with it.
Ender 3 V2 assembly
Its integrated structure makes it very easy to assemble, in addition, the 3D printer now has an integrated source, which improves safety.
Carborundum Glass Bed
A typical upgrade on the Ender 3 3D printers is the upgrade of the bed to a Creality glass. The Ender 3 V2 comes with this as standard, and manages to heat up quickly and stably.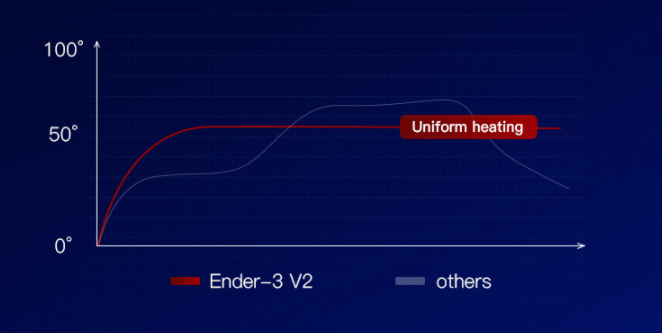 Quiet
Thanks to its developed board with the TMC2208 controller, it manages to stay below 50 dB, ensuring smooth movements and constant low noise.
Resume printing
The Ender 3 V2 3D printer resumes printing if it suffers a power failure, so you won't lose your prints when the power goes out.
Belt tensioners
With the XY belt tensioner you can easily adjust the tension of the belt, which allows you to achieve optimal print quality.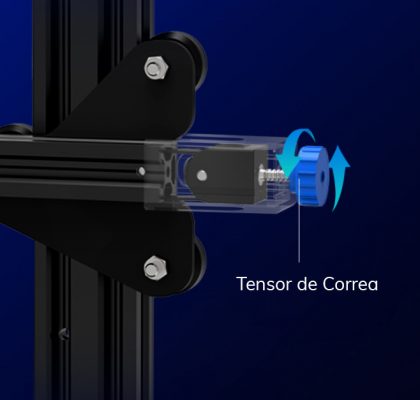 Wheel on the pusher
The new material reloading wheel located on the extruder makes it much easier to load the filament.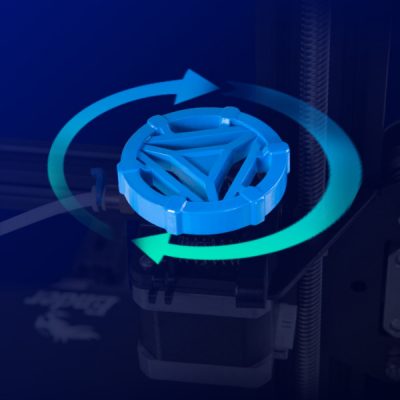 Colour Display
The new colour screen brings a new improved user experience with a new user-friendly UI system.

Toolbox
One of the improvements that could be made to the Ender 3 now comes integrated into the Ender 3 V2 3D Printer, a toolbox that will allow you to place your fittings, allen keys, nozzle spanners, screws for your 3D printer, and nozzle cleaning needles in one convenient place without getting lost.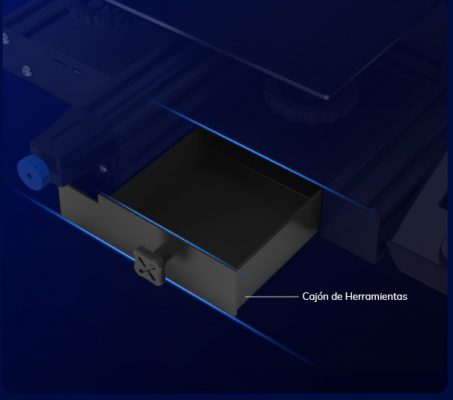 Features
Open source 3D printer (allows any type of modification).
Third party filaments.
Materials: PLA, ABS, PETG, Flexible 95A, composites, etc.
Printing volume above the standard.
Economical.
Easy levelling.
Optimised extruder.
High quality and safe power supply.
Integrated power supply.
Silent plate.
Glass hot bed.
Built-in XY belt tensioners
Colour display
Technical specifications
Extrusion type: FDM (Bowden System).
Build volume: 220 x 220 x 250 mm.
3D printer volume: 475 x 470 x 620 mm.
Filament diameter: 1.75 mm.
Nozzle diameter: 0.4 mm.
Layer thickness: 0.1 – 0.35 mm.
Accuracy: +/-0.1 mm.
Maximum extruder temperature: 255 ºC.
Maximum bed temperature: 110 ºC.
Maximum path speed: 180 mm/s.
3D model formats: STL, OBJ, G-Code.
Connectivity: SD card and USB cable.
Compatible operating systems: Windows/ Mac/ Linux.
Chassis: Aluminium V-Slot profiles.
3D printer dimensions: 440 x 410 x 465 mm.
Weight: 8.6 Kg.
Net Weight: 10 Kg.
Packaging Dimensions: 600 x 350 x 160 mm.
Input: AC 100-265V 50-60Hz.
Output DC 24V 15A 360W.
Software: you can use any laminating software, Ultimaker Cura, Simplify 3D, Slic3r, etc…
EU plug socket.
Ender 3 V2