The Creality CR-10 V2 3D printer is the brand's most versatile model at the moment, offering high volume 3D printing and the ability to print in a wide variety of materials.
Description Creality CR-10 V2
The V2 version offers a large 3D printing volume (30 x 30 x 40) cm with a series of improvements that make it superior to the CR-10 S version. Its structure is black lacquered and reinforced, with an improved base and redesigned fuser.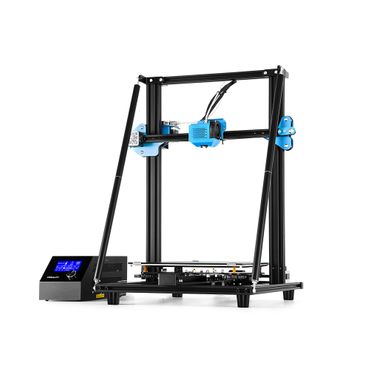 Creality CR-10 V2 is a completely Opensource model, so it can print with any type of material and any brand. Moreover, it can be controlled by any 3D printing software, such as: CURA, Simplify3D, Repetier Host…
Improvements of Creality CR-10 V2
The main improvements offered by this model, unlike its predecessor CR-10 S are:
Double layer fan
Bowden extrusion system with double Titan gear.
350W power supply (higher performance for technical materials).
All-metal fuser.
Pre-installation for self-levelling system with BL-Touch.
TMC 2208 ultra-quiet plate (max. noise 50dB).
Part recovery after power loss and filament sensor.
In addition, it incorporates the part recovery option. This improvement will resume 3D printing where it left off in the event of a power failure or any other incident that causes the 3D printer to shut down.
No more lost prints!
This new version of Creality incorporates a more intelligent and powerful electronic board (V 2.4.1 motherboard).
This extra, provides greater platform heating capacity, faster platform and fuser heating, a more accurate filament melt flow, among the most outstanding advantages.
Technical data Creality CR-10 V2
3D printing technology: FDM/FFF
3D printing volume: 30 x 30 x 40 cm (single extrusion), 27 x 27 x 40 x 40 cm (dual extrusion)
Structure: black lacquered aluminium profile
Nozzle diameter: 0,4 mm
Electronic board V2.4.1 (more than 200 hours of continuous printing)
Printing speed: Up to 180 mm/s (standard speed 30-60 mm/s)
Layer thickness: 0.1 – 0.4 mm
Levelling: Manual (with pre-installed BL Touch levelling system)
Double pusher gear
Filament sensor
3D print recovery
Power supply: 115 – 230 V input (switchable, 24 V output).
Power 115/230 V AC 50 / 60 Hz
Total power 24V 360W
Accuracy: +-0.1 mm
Extruder temperature: Up to 260 ºC
Heated platform: Up to 100 ºC
Touch screen 4,3
Net weight 11.5 Kg
Dimensions of the 3D printer 55 x 40 x 65 cm
Package dimensions 64 x 54 x 54 x 34 cm
Materials: PLA, ABS, WOOD, TPU, CARBON FIBRE, etc.
Format: STL, OBJ, G-CODE, JPG.
Connectivity: SD card, USB cable and Online.
Compatible operating systems: Windows (any version), OSX, Linux.
Weight: 15 Kg