Mycusini is a 3D food printer, specifically a chocolate 3D printer, it is very easy to use and is designed for use in the private kitchen, by users with no previous 3D printing experience.
The MyCusini chocolate 3D printer includes a template library with more than 1000 creative objects, selection and production directly on the screen of the device. The printer works with special 3D Choco refills.
With the purchase of the MyCusini Choco 3D printer you will have access to MyCusini Club, which allows you to easily create and design texts and messages for printing.
The MyCusini offers no space problems. It is a very compact, compact machine, with the space incredibly optimised to take up as little floor space as possible while working. This Chocolate 3D printer takes up as much space as a coffee machine, and fits perfectly in any kitchen.
MyCusini Chocolate 3D Printer Starter Pack includes:
3D Printer x1
Silicone Base x1
Stainless steel cartridge x1
Dark Chocolate (10 cartridges) x1
SD card with more than 1000 3D objects x1
SD card reader x1
General 3D template x1
Cleaning tweezers x1
12v power supply
Easy to Use
Fill the mycusini Chocolate 3D printer with a mycusini chocolate cartridge. Simply select the desired object on the mycusini screen and start printing.
You do not have to take into account printing parameters such as temperatures, speeds, or cooling.
The printer takes the parameters automatically depending on the model. No prior knowledge is required, it is easy and intuitive to use.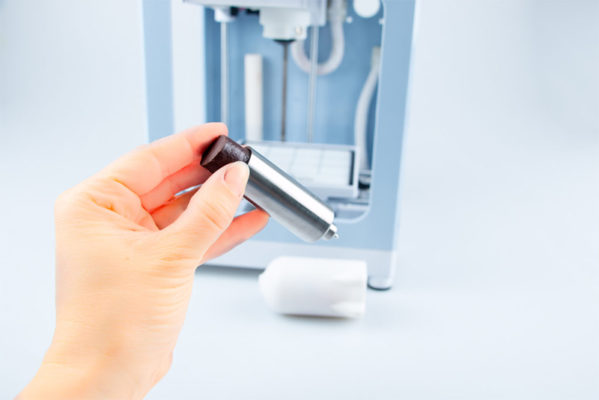 Stainless Steel Nozzle for the MyCusini Chocolate 3D Printer
The 3D templates
You have two options:
Start immediately and select one of the more than 1000 3D templates directly on the mycusini screen. This option is the easiest, requires no prior steps, and is the fastest way to start printing
The mycusini club is also available to you.
– In the mycusini club you can create individual templates as personal text messages and work with your own files.
– Individual templates are an ideal option to explore and increase the possibilities of the Chocolate 3D printer.
Immediate start with template overview
Immediate start with the template overview:
For a quick overview, the mycusini contains the mycusini template overview with all 3D objects. The description is everything.
The book that comes with the 3D printer shows the 1000 3D objects of the mycusini template library with a picture and information about the consumption of choco.
MyCusini Club
With the purchase of a mycusini Choco 3D printer, you get free access to the mycusini club.
There you can create your own objects online, such as individual text messages, freehand drawings or upload your own 3D files, all without programming. And all without programming. Cool, isn't it?
Over 1000 Objects to Print as standard
With over 1000 exciting objects, the variety and possibilities are enormous. Whatever happens, your guests will be amazed.
Here's how it works: simply select your favourite creation in the mycusini 3D template overview and print it out.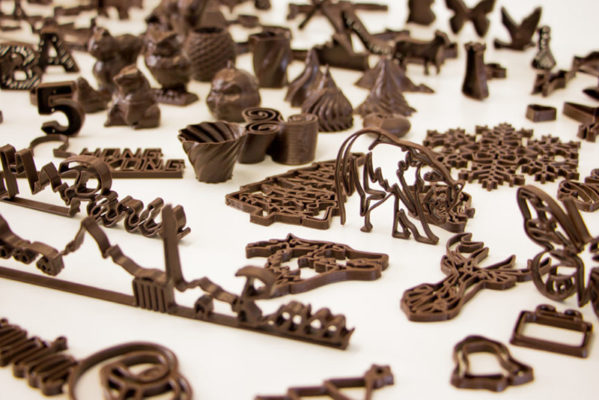 Use your own 3D files
Would you like to make your own 3D files in mycusini 3D Choco?
Simply use the "Own files" application in the mycusini club. There, the files are automatically converted for mycusini.
Free updates
As an owner of the 3D printer, you will have free access to updates, benefiting from improvements and new applications.
Spare parts
In case you need spare parts, you can easily find them:
Silicone base for MyCusini
Stainless steel cartridge (nozzle) for MyCusini 3D Printer
All MyCusini Chocolates
Discover the full range of chocolates for 3D printers.
Dark Choco MyCusini (Dark Chocolate)
White Choco MyCusini (White Chocolate)
Pink Choco MyCusini (Pink Chocolate)
Blue Choco MyCusini (Blue Chocolate)
Choco Dark Naranja (Dark Orange Chocolate)
Dark Raspberry (Raspberry Dark Chocolate)
Dark Coco (Dark Coconut Chocolate)
MyCusini Praline Filled Trial Set (x8)
Technology
Similar to FDM 3D printers, which use filament to make the print, this printer heats the chocolate cartridge, and extrudes it bit by bit to create the piece layer by layer.