The Creality CR-6 MAX 3D Printer is the higher volume version of the Creality CR-6 SE 3D printer. It has the same features, but with more volume and reinforcement bars to ensure stability:
Modular Hotend
Larger volume: 400x400x400 mm
Increased stability
Double Synchronised Z-Axis
Intelligent self-levelling
Filament Detector
32-bit electronics
TMC2209 Drivers
Rear clamps for stability
Highlights of the CR-6 MAX
Print volume 400 x 400 x 400 mm
4.3" touch screen
Power supply Meanwell 500W / 24V
Silent plate
Nozzle temperature up to 260 ℃
Hot bed up to 90 ℃
Built-in filament sensor
Print resume function
Carborundum glass hot bed
Stable structure
Low noise
Volume and Stability
Double Z-Axis
Supporting the imposing Z-axis are the Creality support rods. These metal supports help reduce vibrations as the bed moves back and forth.
Thanks to these supports you can print higher without having to worry about excessive Z-axis oscillation as you reach the upper limits of the build volume.
Double Y-Axis
The double Y-axis with double belts ensures greater stability and less vibration. This has a direct impact on print quality.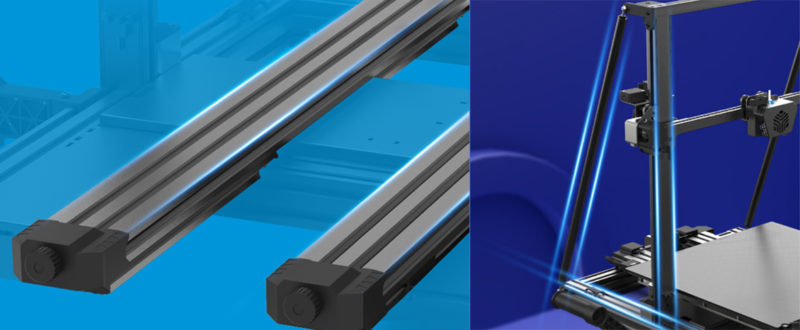 Self Levelling
Incorporates the latest Creality levelling technology. No need to calibrate the hot bed. The 3D printer automatically calibrates itself to achieve the best finishes with the least effort and without any intervention, improving adhesion and reducing errors.
Assembly
Another feature that makes the CR-6 SE stand out is its easy assembly.
Modular Hotend
The completely redesigned modular hotend makes it easy to replace individual components. You can modify aspects of the hotend as you see fit. In addition, it features improved heat dissipation that will increase the quality of your prints.
Synchronised Dual Z-Axis
One of the aspects that many Creality users have been asking for in low-end 3D printers is the incorporation of a dual Z-Axis to improve the stability and finish of the prints.
Well, the CR-6 SE MAX is designed with a wider base and equipped with dual Z-axes combined with an adjustable timing belt that translates into flawless movement and improved refined results. As a result, the machine's stability and performance are simply impressive.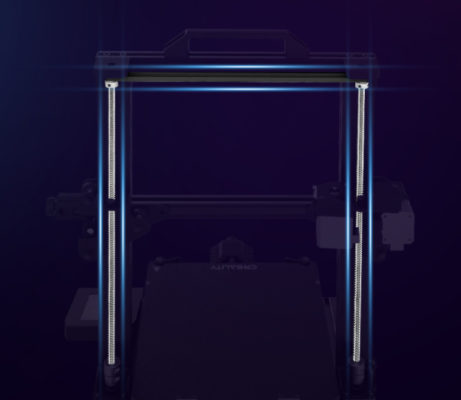 Carborundum Glass Base
As usual with Creality 3D printers, the Carborundum Glass base distributes the heat evenly, and also makes the heating process of the base faster. It also provides excellent adhesion, and the prints are easy to peel off.
Quiet
Thanks to its latest Trinamic controller, which helps to ensure that voltage control, fast movement and printing are quiet.
Dimensions
The Creality CR-6 SE MAX looks sturdy, and in fact, it's a pretty robust printer.
This incredible 3D printer has a great design that complements any desktop you use it on. In addition, the self-designed profiles and stepper motor cover prevent filament debris and dust.
Print volume: 400 x 400 x 400 mm
Volume of the 3D printer: 725 mm x 640 mm x 691 mm
Photoelectric Filament Sensor
The filament sensor will stop printing if the filament runs out or splits. It has a photosensitive cell that controls the spinning of the filament, so there will be no errors in detecting a breakage, or when the filament runs out.
New Touch Screen
Unlike other Creality printers, such as the Ender 3 V2, the CR-6 MAX comes with a 4.3″ full touch screen as standard.
Other Additions to the CR-6 MAX
Belt tensioners
Print resume function
Foldable spool holder
Built-in tool drawer
Stepper motor cover
Hot bed cable protection
Dual Y-axis and dual Z-axis
Meanwell power supply
Silent base plate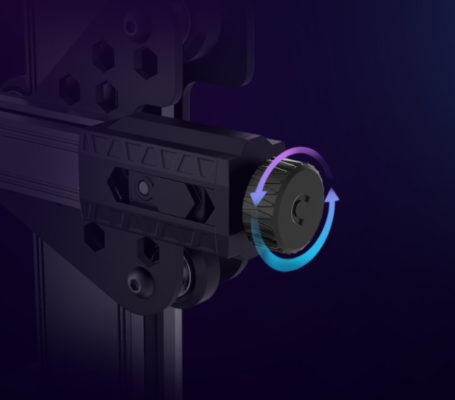 Materials
This 3D printer allows the printing of various materials:
PLA filament
PETG
ABS
Flexible Filament
ASA Filament
etc…
Technical Characteristics
Extrusion type: Bowden system
Nozzle: Mk8
Printing Volume: 400 mm x 400 mm x 400 mm
3D Printer Volume: 725 mm x 640 mm x 691 mm
Maximum nozzle temperature: 260 ºC
Maximum bed temperature: 90 ºC
Maximum print speed: 100 mm/s (depending on material)
Accuracy (max. resolution): 0.1 mm
Filament Sensor: Yes
Print recovery: Yes
Supports third party material (filament): Yes
Filament Diameter: 1.75 mm
Nozzle diameter: 0.4 mm
Supported filaments: PLA, ABS, PETG, Flexibles…
Supported file format: Gcode
Leveling: Intelligent automatic.
Environment: open
Gross Weight: 16.5 Kg
Other Mechanical Characteristics
Extruders: 1
Laminating software: Cura, Repetier, Simplify 3D, Slic3er, etc…
Voltage: AC: 110V / 240V (50-60 Hz) DC: 24V
Power: max. power consumption 500W
Connectivity: USB, micro SD