The 3D printer Artillery SideWinder X1 or Artillery X1 is an all-in-one 3D printer that features ultra-quiet drivers, direct extruder, dual Z-axis, touch screen, and much more.
The Artillery brand is relatively young, with only a few years of life, but has already managed to conquer the users thanks to the improvements implemented in this machine, improvements based on requests from the community, and that have managed to turn this 3D printer, the Artillery Sidewinder X1, into an extremely solid and reliable machine.
Design and Structure of the X1
This 3D printer has the electronics at the bottom of the machine, being fully integrated with the 3D printer and giving a more collected appearance.
It has aluminium profiles, like many other 3D printers, however, they are wider than what we are used to from other brands, giving an extra stability to the machine.
Double Z Axis
This section is very important, as the double Z motor gives the printer greater precision, as the Z axis is always well levelled with respect to the hot bed.
In addition, it has a belt at the top for the synchronisation of both spindles.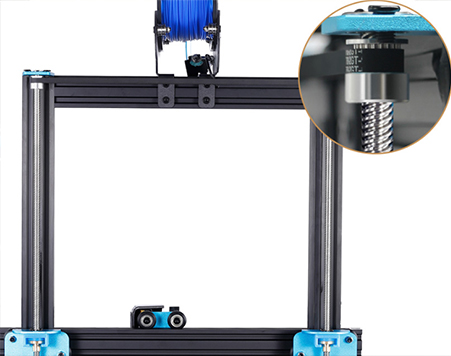 Ultra Silent
With quiet drivers, reduced motor noise and quiet fans, the Artillery X1 is only 45 dB in operation.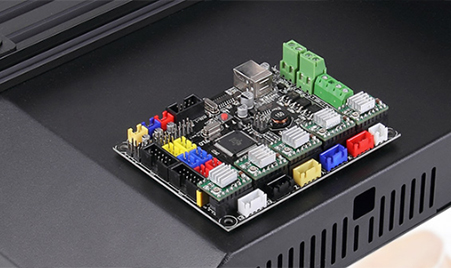 Touch screen display
The colour TFT touch screen allows you to control the 3D printer to perform a variety of functions, including selecting objects to print from an SD memory card. As well as controlling temperature, extrusion (In and Out) to insert or remove the filament, among other functions …
Print volume
It has a printing volume of 300 x 300 x 400 mm.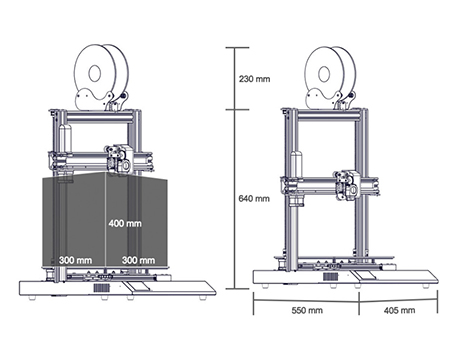 Filament Sensor
The filament sensor of the Artillery SideWinder X1, placed on the top of the 3D printer, will warn you of the lack of filament, and will pause printing if the spool of 3D filament runs out.
Current Detector
In addition to the filament sensor, the printer also allows you to resume printing if you experience a power outage.
Leveling and Hotbed
Like other similar printers, the X1 has manual levelling. The hot bed is integrated with the machine, i.e. it is not removable. It achieves homogeneous temperatures over the entire surface and heats up much faster than other printers, reaching up to 60ºC in less than 1 minute.
Thanks to its assembly and the materials used, it is not necessary to level the bed after each print. It is enough to level once to print many times. However, the use of a hot bed adhesive is recommended.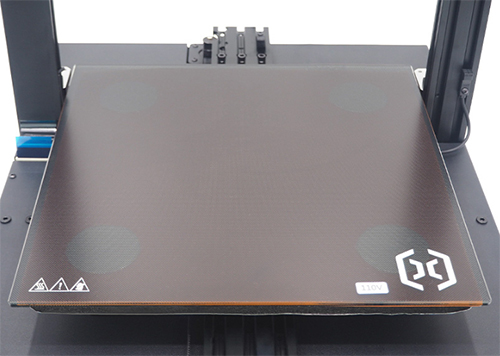 Extrusion System
With a Titan extruder, the Artillery X1 has a direct extrusion system, which will allow you to print a wide range of materials, such as flexible 3D printing filaments, which are always a little easier to print in direct extrusion systems than in bowden.
The volcano hotend will improve the flow of filament to the part being printed. This will allow for slightly faster 3D printing speeds.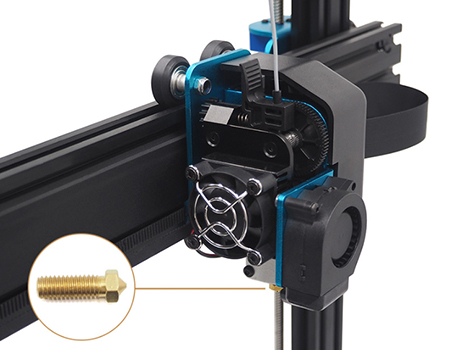 Easy Installation
This printer comes 95% pre-assembled. It will only require a couple of screws installed to attach the main rail assembly to the base.
With a couple of electrical plug connections, you can start printing in as little as 20 minutes from the time you receive the printer and open the box.
Instructions for setup, calibration and use of the 3D printer are included.
In short, all you need to do is:
Attach the Z-frame to the base where the electronics are.
Install the filament spool holder and the sensor
Connect the cables
Print
Another important fact is that there are no individual flat cables. The SideWinder X1 cables are integrated.
Printing Materials
You can print a wide range of filaments for 3D printing, such as
PLA filament
PETG filament
Flexible 3D printer filament
ABS filament
Please note that if you are printing with ABS, cracking may occur in the high areas because the printer is not closed and the heat dome provided by the base may be lost.
Other technical filaments can be printed by the Artillery SideWinder X1, such as carbon fibre filament or Nylon filament. Please note that repeated printing with composite materials can damage your nozzle, which is why we recommend replacing the nozzle of the 3D printer with a hardened steel nozzle.
Box Contents
Case with the necessary screws and spanners for assembly
USB cable
USB flash drive with sample STL files
Spare led
Spare cable
Spare 0.4″ nozzle
Spare bearing wheels
2 parts 3D printer for assembly
Instructions
Technical specifications Artillery Sidewinder X1
3D Printing Technology: FDM/FFF
Design/Layout: Cartesian with XY head
Brand: Artillery
Print volume: 300x300x400 mm
Filament diameter: 1.75 mm
Extrusion Type: Direct
Head: Volcano type
Maximum Extruder temperature: 240 ºC
Maximum bed temperature: 80 ºC
Profiles: Aluminium
Levelling: Manual
Display: Touch screen, colour
Connectivity: USB / micro-SD card
Filament sensor: Yes
Print recovery: Yes
Dimensions: 550 x 405 x640 mm
Weight: 16.5 Kg
Formats: Stl…
Software: Free software, Cura, repetier, Simplify3D, etc…
Materials: PLA, ABS, Flexibles, wood filament, PVA filament, etc….
Buy Artillery SideWinder X1