The UV-729 filament is part of the Treed Filaments technical range. It is highly resistant to sunlight, making it a material specially designed for outdoor use.
It offers excellent mechanical resistance, so it is prepared to print objects that suffer blows and test their mechanical properties.
The surface finish is matt, giving the possibility to play with the processing after 3D printing.
It is printed in the same way as an ABS, favouring its printing with closed envelopes.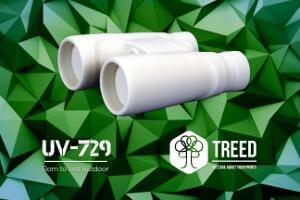 Features:
Diameter: 1,75 mm
Texture: Dark matte white
Net weight: 1 kg
Printing temperature: 235 – 255 ºC
Printing speed: 60 – 70 mm/s
Hot bed: 90 – 110 ºC
Ease of printing: medium