3D printer of the famous Creality brand, the Ender 5 is the evolution of its predecessor the 3D printer Ender 3, which had an excellent reception in the market.
Outstanding features of the 3D Printer
The Ender 5 is a more stable 3D printer, thanks to its dual Y-axis motion control system.
Integrated power supply
More robust cubic structure
Larger print volume than its predecessors
Print recovery function. Recovers printing in the event of a power failure.
Simple manual levelling thanks to the size of the calibration wheels.
Improved 24V power supply
Flexible magnetic removable bed
55 db maximum noise (quieter than previous models)
Micro-SD connectivity and USB-mini B cable
The Ender 5 also has a distinct advantage over its predecessors in that the head can move freely in both X and Y directions, whereas in previous versions the head moved along the Z axis. This improves the performance of the machine and the speed of the prints.
Mounting
The Creality Ender 5 3D Printer is easy to assemble, and can be finished in just 1h 30min even if you are an inexperienced user.
In the machine's instructions, the process is described in detail, step by step, from materials to bed leveling.
The tools required for assembly are supplied with the printer.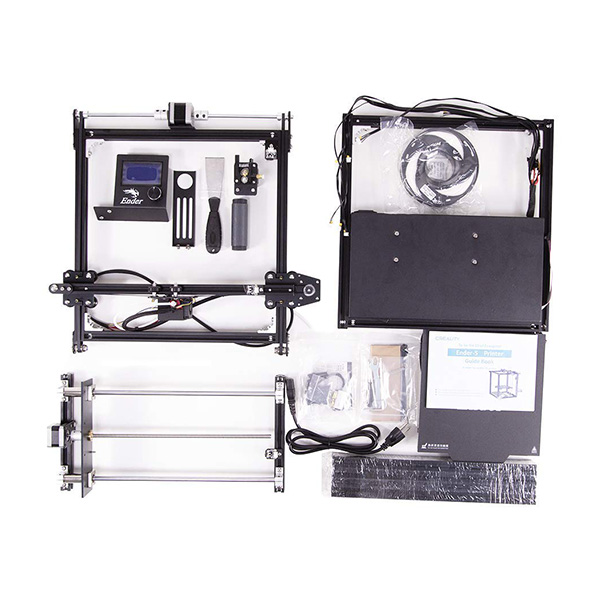 Dimensions
The robust, cube-shaped printer has external dimensions of 440 x 410 x 465 mm and printing dimensions of 220 x 220 x 300 mm.
The dimensions of the X and Y axes are the same as previous versions, however the Ender 5 offers more space for the Z axis.
Power supply
The power supply is a 350W/24V Meanwell power supply, the same as the one successfully used in the Ender 3 PRO, which allows the heated base to heat up quickly.
The Ender 5 3D printer comes with power failure protection.
Materials
This model of Open Source 3D printer, allows to print in an affordable way numerous types of filament, such as PLA filament, ABS, PETG filament, or flexible filament, among others...
Technical Characteristics
Type of extrusion: Bowden system
Printing Volume: 220 x 220 x 300 mm
Maximum printing speed: 80 mm/s without quality loss
Printing accuracy (layer thickness): 0.1 – 0.04 mm
Filament diameter: 1.75 mm
Nozzle diameter: 0.4 mm
Compatible filaments: PLA, ABS, PETG, Flexibles…
Layer resolution: 50 microns
Supported file formats: STL, Gcode, Obj
Other Mechanical Features
Aluminium V-groove bearings (V Slot)
Extruders: 1
Laminating software: Cura, Repetier, Simplify 3D, Slic3er, etc…
Power requirements:
Compatible mains voltage: 110V/220V
Voltage: 24V
Power: 270W
Connectivity: USB cable, micro SD
Net Weight: 11Kg
Packaged weight: 12Kg