3D printer of the famous Creality brand, the Ender 5 PLUS is the evolution of its predecessor the Ender 3 3D printer, and the bigger and improved version of the Ender 5 printer.
3D Printer Highlights
The Ender 5 PLUS is a highly stable and robust 3D printer.
It has a powerful 550W power supply.
More robust cubic structure
Print volume of 350 x 350 x 400 mm, larger than the Ender 5 3D Printer
Pre-installed automatic levelling
Filament sensor 
Resume printing function (ideal for power outages)
Removable glass bed (350 x 350 mm)
Pre-installed, easy assembly (about 1 hour)
Dual Z-Axis
The Ender 5 Plus is the larger and improved version of the popular Ender 5, maintaining the square and stable design, but with more volume.
Volume
The Creality Ender 5 Plus has a large print volume, even larger than other Creality 3D printers such as the CR-10S Pro V2, which is 300x300x400mm in size.
The Ender 5 PLUS has a print size of 350 x 350 x 400mm, achieving better results, and allowing the printing of larger models.
Levelling
The Ender 5 PLUS 3D printer is equipped with BLTouch sensor, which allows to measure the inclination of the bed (if any) and automatically correct the Z axis if there are irregularities, avoiding errors and ensuring the proper functioning of the printer, as well as a better result.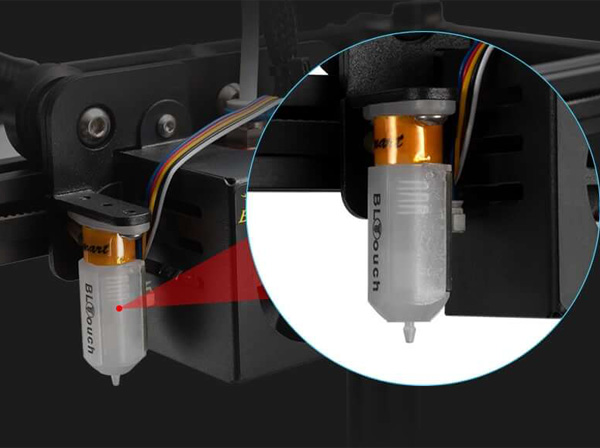 Filament Sensor
You no longer have to restart printing when you run out of filament, or there is a knot in the spool. A 3D printer as large as the Ender 5 PLUS, designed for high volume printing, needs a filament sensor to avoid air prints, and the Creality Ender 5 Plus has it.
Power Supply
CE certified, the 550W power supply guarantees maximum safety and high performance. It is capable of heating the bed to 100°C in 10 minutes.
Frame features
Double Y-axis, equipped with 42-48 motor, which allows you to perform high power movements without losing reliability.
Double Z axis, allowing smooth and stable movements of the printing platform.
Plate
The creality V2.2 plate works with E/Z/Y/X-axis motors while avoiding heating problems.
Mounting
The Creality Ender 5 PLUS 3D Printer comes pre-installed.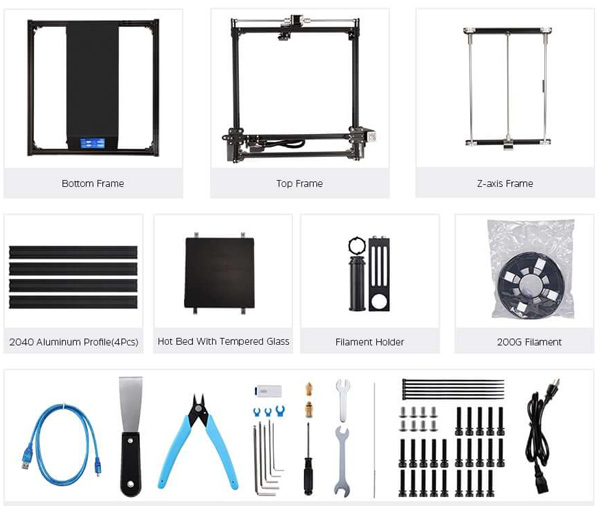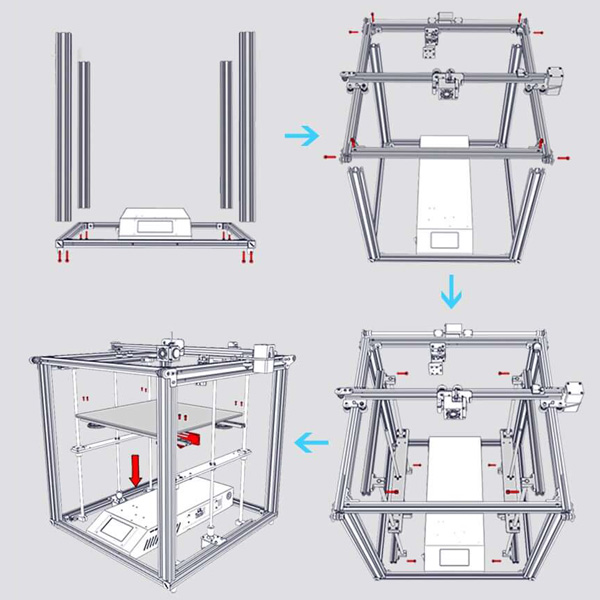 In this overview video from creality you can see the assembly process of the 3D printer.
Display and Operation
The Ender 5 PLUS is equipped with a 4.3" touch screen offering all the necessary information, both parameters and settings.
Materials
Creality 3D printers are Open Source, which allows you to affordably print numerous types of filament, such as PLA filament, ABS, PETG filament, or flexible filament, among others…
Retrieve Print Mode
The Ender 5 PLUS is a 3D printer designed for high volume printing, the longer the printing time, the greater the possibility of suffering a power outage, so it is designed to withstand many hours of operation, and in case of power failure, you can continue printing where it left off.
Technical characteristics
Type of extrusion: Bowden system
Printing volume: 350 x 350 x 400 mm
Maximum printing speed: 80 mm/s without loss of quality.
Printing Accuracy: +-0.1 mm
Filament diameter: 1.75 mm
Nozzle diameter: 0.4 mm
Nozzle Temperature: ≤ 260 ºC
Hot bed temperature: ≤ 100 ºC
Supported filaments: PLA, ABS, PETG, Flexibles…
Supported file formats: STL, Gcode, Obj
Display: 4.3".
Connectivity: SD card
Weight: 18.2 Kg
Gross Weight: 23.8 Kg