Da Vinci Junior Wifi Pro
The Da Vinci Junior Wifi Pro 3D printer is a compact model with high precision and easy calibration. This new model incorporates Wifi.
It is an upgrade version of the Da Vinci Junior 1.0 PRO.
The Da Vinci Junior Wifi PRO has an automatic filament insertion system that guarantees the correct insertion of the filament.
Frustration-free Calibration
Comes fully assembled with an automated 9-point calibration detection system, making setup, calibration and maintenance as easy as pressing a button.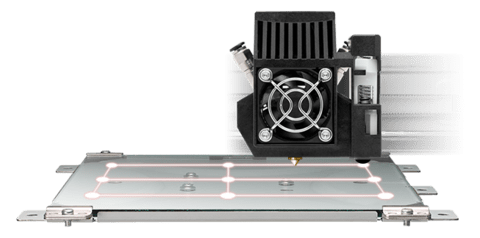 Software and Materials
Another model in the XYZprinting brand that allows the user to print third-party filaments and use free tools to generate codes and print your models, Slic3r, Cura, Simplify3D …
In addition, it allows you to use third-party materials, that is, You can purchase PLA filament, ABS filament, PETG filament, or any 3D printer filament of your favorite brand.
Slicers
This version of the Da Vinci Junior 3D printer allows you to generate gcodefiles with anylaminator, such as cura, slic3er, for later printing via SD card.
Product features of the da Vinci Junior Wi-Fi Pro
Compact 3D printer designed for professional users
Size of installation space: 15 x 15 x 15 cm
Max. Nozzle temperature: 240 °C
High manufacturing accuracy: 20 microns in Z-direction
Integrated Wlan module for optimal connectivity
Optional laser engraving possible thanks to additional module
Easy auto-calibration over 9 points system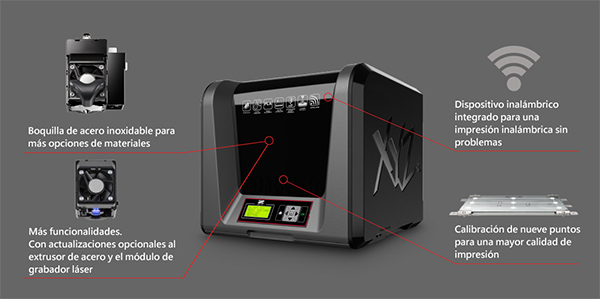 Volume
The compact print size of 15 x 15 x 15 cm is perfectly sufficient for the vast majority of applications. In addition, the small dimensions ensure smooth and reliable operation of the extruder.
The printer volume is 42 x 43 x 38 cm
High precision
A high manufacturing precision of 20 microns allows you to print very precise components in 3D. Especially with small objects, resolution often plays a central role, therefore, XYZprinting allows you this high resolution.
Technical data
Technology: FFF
Max. Build Area (WxDxH): 150 x 150 x 150 mm
Layer Resolution: 20 – 400 microns
XY Positioning Precision: X/Y 12.5 micron
Z Positioning Precision: Z : 0.0004 mm
Printing Software: XYZmaker Suite
Supported File Formats: .stl , XYZ Format (.3w), G-code, .3mf, .obj, .igs, .stp
3D Builder Support: Yes
Max. Moving Speed: 160 mm/s
Print bed: non-nemovable glass
Leveling: auto
Filament Feeding System: Yes
Stepper Motors: 1.8° HB Stepper Motors
User Interface: 2.6″ LCM
Language: Multilingual
Connectivity: USB 2.0 Cable, Wi-Fi 802.11 b/g/n, SD card
Size (WxDxH): 420 x 430 x 380 mm
Weight: 12 Kg
Packed Dimensions (WxDxH): 505 x 588 x 475 mm
Packed Weight: 15 Kg