A high-performance 3D printer, the Creality CR-200B has excellent performance, but it also has a smart and elegant design.
Highlights of the CR-200B
Fully enclosed environment
Filament Sensor
Touch screen display
Internal LED light
Ultra-Simple Assembly
The Creality CR-200B comes almost fully assembled, you only need to attach the top cover and the spool holder. After starting up the 3D printer, you will need to perform a calibration. For the calibration you can use the levelling aid, and level the 5 key points of the base. It's that simple!
Professional 3D printer for the most demanding users
Ready to print technical materials? CR-200B has a closed and thermostable environment, allowing the printing of the most technical and demanding materials such as ABS filament, Nylon filament or PolyPropylene filament, as well as other filaments that require a stable environment for its correct printing.
Carborundum Glass and Leveling Base
This base improves thermal conductivity as well as heat resistance. Thanks to the incorporation of this material, the base heats up faster and more homogeneously. In addition, it achieves excellent adhesion, so you don't have to worry about the first layer.
The base is removable, so once you have finished your prints, you can remove it, let it cool, and proceed to remove your prints.
The leveling of the CR-200B base is semi-automatic, you can tell the 3D printer through the touch screen where you want it to be placed, to proceed to move the wheels of the base and level it correctly.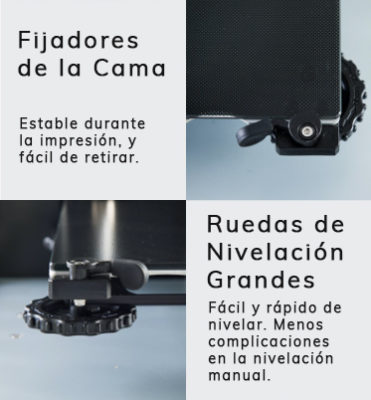 Dimensions
The robust, cube-shaped printer has external dimensions of 411 x 435 x 503 mm and a print volume of 200 x 200 x 200 mm.
Bowden Extruder with Filament Sensor
Its Bowden-type extruder guides the filament through a Teflon tube to the hotend, where the material is cooled and deposited on the hot bed. Prints are left with excellent quality and a professional finish.
A remarkable feature of the CR-200B is the filament sensor, this sensor will warn you if the material suffers a breakage, or if the 3D printer runs out of material, pausing the print, until the machine is loaded with more filament.
This improvement avoids the loss of prints due to running out of material.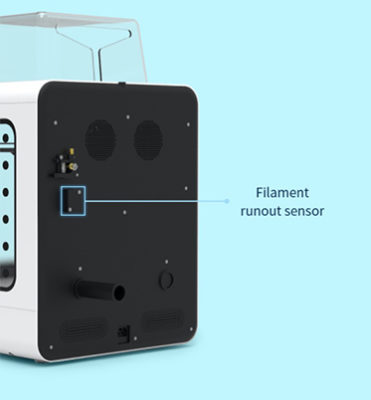 Touch screen
Touch screen that features a completely redesigned interface. This new interface is easy to use and very intuitive. Here you can view functions, change parameters and choose levelling points, preheat, and much more.
Materials
Its structure and its closed environment allow the printing of all types of materials with excellent finishes.
ABS
Nylon
Carbon Fiber Filament
ASA Filament
Polypropylene Filament
And of course, you can still use materials such as PLA or PETG filament or flexible TPU filament.
Technical Characteristics
Extrusion type: Bowden system
Extruder: Mk8
Printing volume: 200 x 200 x 200 mm
Total volume of the 3D printer: 411 x 435 x 503 mm
Maximum nozzle temperature: 250 ºC
Maximum bed temperature: 100 ºC
Maximum print speed: 100 mm/s depending on material
Printing accuracy (layer thickness) : 0.1mm
Filament Sensor: Yes
Print recovery: Yes
Supports third party material (filament): Yes
Filament diameter: 1.75 mm
Nozzle diameter: 0.4 mm
Supported filaments: PLA, ABS, PETG, Flexibles…
Supported file format: Gcode
Leveling: Semiautomatic (Manual Assisted).
Environment: Closed
Gross Weight: 20.6 Kg
Net Weight: 16 Kg
Shipping Box Volume: 533 x 499 x 605 mm
Other Mechanical Characteristics
Extruders: 1
Laminating software: Cura, Repetier, Simplify 3D, Slic3er, etc…
Voltage: AC: 110 V / 240 V (50-60 Hz) DC: 24V
Power: maximum power consumption 360W
Connectivity: USB, micro SD