Discover the Ultimaker S5, an easy-to-use desktop 3D printer with a large build volume that delivers accurate, industrial-grade parts, time and again. With simple setup, high uptime, and reliable dual extrusion, Ultimaker S5 is the complete professional 3D printing solution.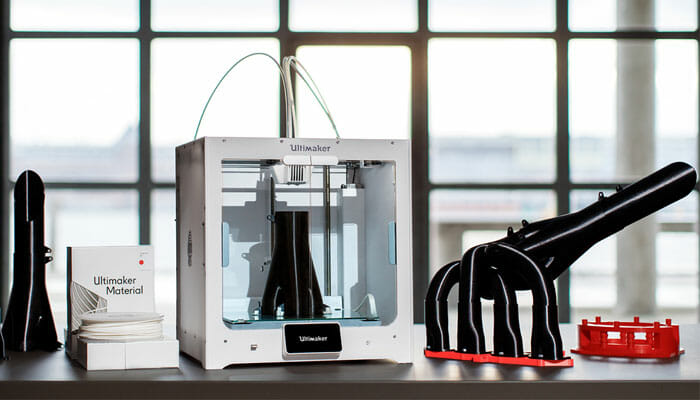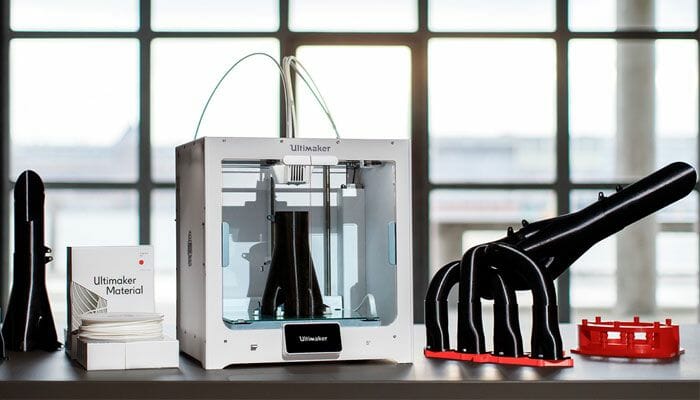 Complex prints made easy
Create intricate geometries and technical models by combining your build material with water-soluble PVA support material, then remove supports by simply resting the print in water.
Ultimaker 3D printers are the most reliable dual extrusion machines on the market.
Think big, print bigger
With its bigger build volume, the Ultimaker S5 is designed for a reliable 3D printing experience at scale. For large, technical prints, Tough PLA material offers toughness similar to ABS with the simplicity of PLA.
Optimized materials
Ultimaker materials are extensively tested to give the best results on the Ultimaker S5. And Ultimaker Cura software comes with preconfigured profiles, so you don't need to spend time on complex slicing settings.
Limitless possibilities
3D print everything from quick prototypes to complex, technical parts with Ultimaker's range of build and support materials. And with an open filament system, you can also choose a custom material solution.
Printer and printing properties
Assembly type: 

Pre-assembled

Layer resolution: 

0.25 mm nozzle: 150 – 60 micron

0.4 mm nozzle: 200 – 20 micron
0.6 mm nozzle: 300 – 20 micron
0.8 mm nozzle: 600 – 20 micron
Build plate: 

Heated glass build plate

Build plate leveling: 

Active leveling

Print technology: 

Fused filament fabrication (FFF)

Print head: 

Dual-extrusion print head with an auto-nozzle lifting system and swappable print cores

Print core replacement: 

Swappable print cores

Build speed: 

< 24 mm³ /s

Feeder type: 

Dual geared feeder optimized for composite materials

XYZ resolution: 

6.9, 6.9, 2.5 micron

Nozzle diameter: 

0.25 mm, 0.4 mm, 0.6 mm, 0.8 mm

Nozzle temperature: 

180 – 280 °C

Nozzle heat up time: 

< 2 minutes

Build plate heat up time: 

< 4 min (from 20 to 60 °C)

Operating sound: 

50 dBA

Display: 

4.7-inch (11.9 cm) color touchscreen
What's in the box
750 g spool of Ultimaker Tough PLA
750 g spool of Ultimaker PVA
Two swappable 0.4 AA print cores
A swappable 0.4 BB print core
Glass build plate
Ethernet cable
USB stick, glue stick, hex screwdriver, oil, and grease
A calibration card and XY calibration sheets