Scale prototyping and production as your business grows with the Form 3, an affordable, industrial-quality 3D printer that consistently delivers.
The Next Generation of Industrial 3D Printing
With advanced Low Force Stereolithography (LFS)™ technology, Formlabs has completely re-engineered resin-based 3D printing to drastically reduce the forces of the print process.
Low Force Stereolithography (LFS)™ uses a flexible tank and linear illumination to deliver groundbreaking print quality and printer reliability.
Pinpoint Precision
The custom-designed Light Processing Unit (LPU) inside the printer uses a compact system of lenses and mirrors to deliver accurate, repeatable prints.
Crisp, clean features:
The high-power-density laser is passed through a spatial filter to guarantee a clean laser spot.
Consistent printing:
A parabolic mirror ensures that the laser prints perpendicular to the build plane, ensuring uniform print quality across the entire build platform.
Faster than ever:
A high frequency galvanometer offers precise control and high speed.
Nonstop Printing
The Form 3 constantly monitors print performance so you can focus on bringing your most creative ideas to life. Integrated sensors help maintain ideal print conditions and send you alerts about the state of your machine.
Closed-loop calibration:
Optical sensors continuously correct for scale and power, and can even detect dust.
Hassle-free materials management:
Switch between materials in seconds with a simple cartridge system.
User-replaceable components:
The Light Processing Unit, rollers, and optics window can be replaced in-house, reducing the need for replacement printer shipments.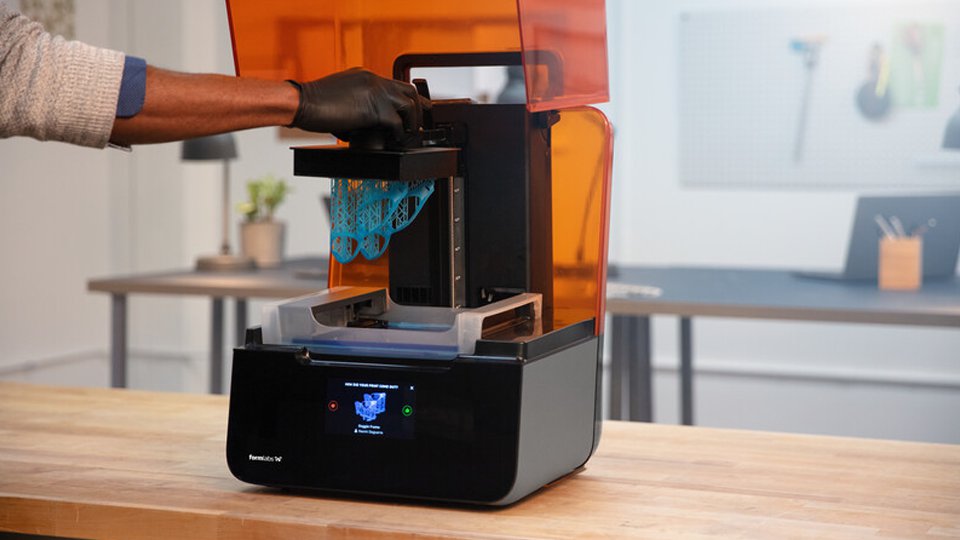 Grows With Your Business
Start with one 3D printer or many, and add capacity as demand grows. Use the same tool through prototyping and into production and easily expand into new applications.
Industrial quality for all:
The Form 3 offers industrial capabilities at a fraction of the price of traditional industrial machines.
Get started now:
Formlabs 3D printers are ready to plug and print right out of the box, no specialized training required.
Avoid delays:
Bringing production in-house with the Form 3 provides the fast turnaround time and flexibility you need to scale.
Technology: Low Force Stereolithography (LFS)™
XY Resolution: 25 microns
Laser Spot Size: 85 microns

Laser Power:

One 250 mW laser
Build Volume (W x D x H): 14.5 × 14.5 × 18.5 cm – 5.7 × 5.7 × 7.3 in
Layer Thickness: 25 – 300 microns – .001 – .012 in

Printer Dimensions (W × D × H): 40.5 × 37.5 × 53 cm – 15.9 × 14.8 × 20.9 in

Weight:

17.5 kg –

38.5 lbs

Operating Temperature: Auto-heats to 35 °C – Auto-heats to 95 °F

Temperature Control: Air-heated print chamber

Power Requirements: 100–240 VAC – 2.5 A – 50/60 Hz – 220 W
1 Light Processing Unit
EN 60825-1:2007 certified
Class 1 Laser Product
405 nm wavelength
250 mW power
85 micron (0.0033 in) laser spot

Connectivity: Wi-Fi (2.4, 5 GHz), Ethernet (1000 Mbit) and USB 2.0

Printer Control: 5.5″ interactive touchscreen, 1280 × 720 resolution

Alerts: Touchscreen alerts, SMS/email via Dashboard, Two LED status indicators, Speaker for audio alerts
Software
System Requirements: Windows 7 (64-bit) and up, Mac OS X 10.10 and up, OpenGL 2.1 – 4 GB RAM
Hardware Requirements: Form 3, Form 3L, or Form 2 3D printer
File Types: STL and OBJ file input, FORM file output
PreForm Print Setup Features

One-Click Print
Adaptive layer thickness for faster printing with fine details
Remote Print
Auto-orient for optimal print position
Auto-mesh repair
Auto-generation of supports
Rotate, scale, duplicate, and mirror
Layer slicer for path inspection
Available in multiple languages

Dashboard Printer Management Features

Manage prints and printers via the cloud
Track resin and tank usage over time
SMS and email alerts
Create enterprise group accounts with admins to more easily share printers and control access