The da Vinci 1.0 Pro is a professional-grade 3D printer that supports printing with 3rd-party plastic filaments and G-code.
Great Prints Every Time
The da Vinci 1.0 Pro comes with a 200 x 200 x 200 mm aluminum print bed and enclosed print area for more consistent print quality. The aluminum print bed rapidly distributes heat evenly and decreases the chances of warpage giving you great ABS prints..
3rd Party Filament
Choose from a wide range of third-party materials such as ABS, PLA ,PETG, or HIPS filament and easily adjust a wide range of print settings in XYZware Pro or other slicing software (Cura and Slic3r).
Upgradable Laser Engraving
Make your projects that little bit more professional with an optional laser engraving add-on. Simply replace the print-head with a laser module, load the engraving software and engrave on plastic, leather, paper, cardboard or wood.
Wireless Printing
Set the da Vinci 1.0 Pro up in your workshop and connect to it wirelessly to print from anywhere within your home/office network.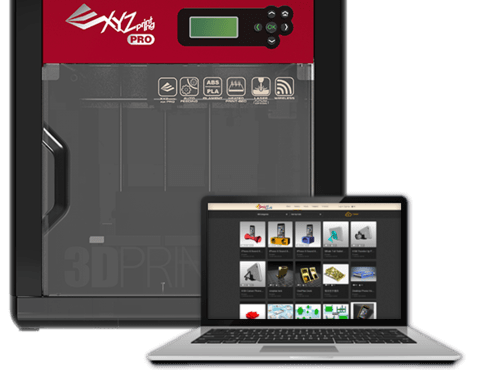 Printing Properties
Print Technology: FFF(Fused Filament Fabrication)

Max. Build Area (WxDxH): 200 x 200 x 200 mm

Layer Resolution: 20 – 400 microns

XY Positioning Precision: X/Y 12.5 micron

Z Positioning Precision: Z : 0.0004 mm

Printing Software: XYZmaker Suite

Supported File Formats: .stl , XYZ Format (.3w), G-code, .3mf , .obj, .igs, .stp

3D Builder Support: YES

Max. Moving Speed: Max. 120 mm/s
Material
Material Compatibility: PLA / Antibacterial PLA / ABS / Tough PLA / PETG / HIPS / Wood

Support 3rd Party Material: YES

Filament Diameter: 1.75 mm
Extruder
Nozzle Diameter: 0.4 mm

Number of Nozzles: 1

Nozzle Temperature: Max. 240 °C
Print Bed
Print Bed: Non-removable Metal

Print Bed Temperature: 40 ~ 90 °C / 104 ~ 194 °F

Leveling: AUTO
Engraving Properties
Engraving Area: 20 cm x 20 cm

Laser Engraver: Optional

Laser Wavelength: 450nm + 5nm/-10nm InGaN

Output Power: 350mW ± 10%

Laser Engraving Software: XYZengraver

Supported Image Formats: .jpg / .png / .gif /.bmp
Hardware
Filament Feeding System: YES

Stepper Motors: 1.8° HB Stepper Motors

User Interface: 2.6″ LCM

Language: Multilingual

Connectivity: USB 2.0 Cable, Wi-Fi 802.11 b/g/n
Size&Weight
Product Dimensions (WxDxH): 468 x 558 x 510 mm

Product Weight: 23 kg

Packed Dimensions (WxDxH): 560 x 590 x 700 mm

Packed Weight: 27.5 kg