3D SMOOTH  is a resin for 3D printed parts that improves its surface finish, protects them and prepares them for painting. It consists of two liquids that are mixed and applied on the printed piece.
3D SMOOTH  is designed to obtain a uniform professional finish without leaving marks on the piece. The working time is 30 minutes and it takes about 5 hours to heal. Its 1: 1 mixing ratio   makes it easy to work with.
Once the product is applied, the piece can be sanded and painted. It acts as a primer for PLA, ABS and all other materials. Two layers of 3D SMOOTH are recommended   for perfect results. It is also designed so that it will not leave strokes or brushstrokes.
3D SMOOTH is very economical with only 30 grams you can cover more than 300 cm².
With  3D SMOOTH  your pieces will obtain:
A smooth and smooth finish, making the printing layers disappear
Protection against bumps and scratches
Protection against UV rays, 3D SMOOTH does not yellow
3D SMOOTH  is compatible with all materials for 3D printing. In addition its light flexibility will allow your pieces to bend without suffering any damage, maintaining a great resistance and hardness.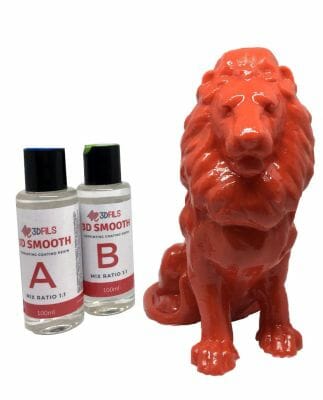 The pack contains:
100ml of resin A
100ml of resin B
Vinyl gloves
Mixing paddle
Measuring glass
Foam brush